Parish of Saint James
Villas in Montego Bay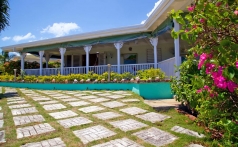 Average price per couple starting from US$ 720
WindJammer
Windjammer Villa at Silver Sand Trelawny
Details
Minimum stay 3 nights
Max. 8 persons
4 Bedrooms
Montego Bay

The parish is bordered by Trelawny in the east, St. Elizabeth in the south and Hanover and Westmoreland in the west. It covers an area of 594.9 km², making it one of the smallest parishes in Jamaica. The population was an estimated 185,334 in 2010.

About two-thirds of the parish consists of limestone. The Nassau Mountains, which rise from St. Elizabeth, south of the parish, extend diagonally across St. James. The range then declines to a point just south of Montego Bay. Its highest point is approximately 1524 metres above sea level.

Great River, which serves as the boundary between St. James and its neighboring parishes Hanover and Westmoreland, and the Montego River, which rises in central St. James and flows north, then west to Montego Bay, are the two main rivers.

The city of Montego Bay may be roughly divided into two sections: the tourist area, which occupies the northern section of the bay along the shore line, and the commercial and industrial sections, which are second only to Kingston in size and volume of trade.


Commerce
Today, Saint James is one of the fastest growing parishes on the island with large credits going to Montego Bay, because it is seen as an alternative to the overpopulated Kingston and Saint Andrew Corporate Area.

Agricultural activities include forestry, and the production of sugar cane and other domestic crops. There are approximately 60 manufacturing establishments in the south of the parish, mainly for garment, woodwork, and food processing. There are also many industrial zones, including The Montego Free Zone, Bogue Industrial Estate and Ironshore.