Jamaica Has Never Had Olympic Synchronized Swimmers.
Meet Ajoni, Katana, Joydayne, Laila, and Nyouka: the girl squad that makes up the Island Aquatics Synchro Club.
Joydayne Whyte, 9, swimming during training at the National Stadium pool in Kingston, Jamaica.
PORT ANTONIO, Jamaica — Port Antonio is known for its water. It is home to the Blue Lagoon, a placid pool fed by the Caribbean Sea that is surrounded by waterfalls, a lush green jungle and a string of idyllic beachside resorts.
All that water is a natural training camp for the band of girls who have their hearts set on an unusual dream for this island nation: to someday compete as synchronized swimmers in the Olympics.
The sport has never quite taken root here. Though the specialty has been an Olympic event for more than 30 years, it is far less established than other water sports, like diving and swimming, which have been around since the early 1900s. For a small country, Jamaica has won an impressive 78 Olympic medals, but there has never been a Jamaican synchronized swimming team in the Olympics. And for a country surrounded by water, it has never won a medal for an aquatic sport.
Members of the Island Aquatics Synchro team at the National Stadium pool in Kingston, Jamaica. CreditMalin Fezehai/The New York Times
But that isn't going to discourage the magnitude of these girls' dreams. Those dreams have formed around Olga Novokshchenova, a Russian two-time Olympic gold medalist in synchronized swimming, who began teaching out of her home in Port Antonio. She started with one student, the daughter of a friend. "That poor girl, she was actually dreaming to do springboard diving, but we didn't have that, so I said, 'Well you are going to have to do synchronized swimming,'" she said.
Novokshchenova now coaches five girls at her house: Ajoni Llewellyn, 17; Katana Blount, 10; Joydayne Whyte, 9; Laila Bailey, 12; and Nyouka Baugh, 15. They train four days a week and call themselves the Island Aquatics Synchro Club. It is not surprising that at practices there is a sense of sisterhood. Theirs is the only club for synchronized swimming that remains in Jamaica. (There was one in Kingston, but it disbanded.)
One of swimmers, Joydayne Whyte, remembers the moment she decided that she wanted to be an Olympic athlete. She was 3 years old. She was sitting in her home in Port Antonio, mesmerized as she watched synchronized swim teams competing in the Olympics as they twirled, bobbed and danced in brightly colored swimsuits and glistening makeup.
"I want to do that!" she exclaimed to her mother, Andrea Rodgers.
Rodgers herself had not learned how to swim. But she wanted to fulfill her daughter's every wish. So she sought out a teacher.
"It is my dream to continue swimming, to win and go to the Olympics and come first," said Joydayne, a fourth grader, who has been Novokshchenova's student now for two years. Last year, she qualified for the national team in synchronized swimming and represented Jamaica at the Central American and Caribbean Championships.
Novokshchenova estimated that she has taught about 100 swimming students over the 12 years she has lived in Port Antonio. She would pick out the strongest swimmers of those she was teaching and ask if they were interested in synchronized swimming. Slowly, she started building a team.
Katana was one of Novokshchenova's beginner swimming students, and her father encouraged her to join the synchronized swimming team. "He is always smiling and taking pictures," she said, adding that swimming on the team makes her feel special. She has even taught several of her family members how to swim at the beach.
Jacqueline Neil, the mother of one of the swimmers, is known as "team mom," and she arranged an overnight camping trip and a workshop at which a doctor talked about their health and periods.
Team members train at their coach's house because there are no public pools in Port Antonio.CreditMalin Fezehai/The New York Times
On a recent day in Port Antonio, the five girls arrived at Novokshchenova's pool, still dressed in their school uniforms. They changed into their swimsuits and began to stretch. Training begins at 3 p.m.
She floated, slowly submerging her head in the water.
"One, two, three, four ... ," said Novokshchenova as a timer ticked.
Ajoni gracefully tilted vertically until just her perfectly arched feet pointed above water.
"Nineteen," her coach shouted as Ajoni came up gasping for air.
The team swims for three hours until about 6 p.m., when the sun sets, so the younger girls can get home before it gets too dark. Novokshchenova would like to be able to train them somewhere more central and accessible, but there are no public pools in Port Antonio.
The expense of traveling to and from Novokshchenova's house is quite an investment for the athletes' families. The swimmers take taxis both ways four days a week, and that cost is an obstacle when recruiting new team members. The coach said that she had four other girls who wanted to join the team but that their families could not afford the taxi fare.
Attracting and sustaining new members is one of the biggest obstacles of trying to reach their Olympic dreams. The athletes had their hearts set on qualifying for the duets category for the 2020 Summer Olympics. But they needed at least two swimmers in the same age range. Nyouka and her partner were training, but her partner moved abroad. At one point, they had 14 swimmers on the team, but now there are only five. It has been a challenge to keep the team motivated when there are so few people doing synchronized swimming in Jamaica.
Ajoni said that none of her other friends at school knew how to swim.
"My dream is to make synchronized swimming more known in Jamaica," said Nyouka, who has been swimming for seven years. Her mother encourages her to continue training, reminding her what she would be doing if she weren't swimming: "Nothing," Nyouka said, laughing.
The club is self-funded, and the swimmers' parents pay about $100 every three months, not including international traveling costs, tournament fees, training expenses and competition swimsuits. The club relies on private donations and organizes fund-raisers to pay for the team's overseas trips and expenses.
In 2013, the team competed for the first time at a major event, the UANA Pan American Synchronized Swimming Championships. The team did not, however, have beginner's luck. They finished "dead last," said Jacqueline Neil, the team's manager and Ajoni's mother. "But the exposure was great. The girls had a whale of a time, and despite everything, they were the stars," she said. "There were very few black teams."
"I hated the water. It was really cold," said Nyouka of the event, her first competition. She said that is was scary because it was her first time performing before so many people.
Two years later, the team placed fourth in the same competition, making it the highest place Jamaica has ranked.
"We actually made history because it was the first time coming so close up in that kind of a competition," Nyouka said. "It felt good."
Last year, the team traveled to Orlando, Fla., to compete in a junior Olympic championship. They placed highly in many of the categories. Laila and Joydayne won first place in the duets category; Laila got second place and Joydayne got fourth place in the 12-and-under category; Nyouka came in third place in the solo category and second in duets in the 13-15 age group; and Ajoni placed fourth in juniors.
Laila had injured her leg just before the competition. "I had to bear the pain because I don't like losing," she said. She feels that her swimming performances help with her stage fright and that they will aid her in her professional life when she has to speak publicly.
"Maybe I'll get a job that I will have to make a speech or when I am graduating from high school and I have to make a speech, I'll be more brave," she said, adding, "I want to be someone that everyone else will be watching someday."
Image
Joydayne playing in the sand at Frenchman's Cove.CreditMalin Fezehai/The New York Times
On a recent sunny day in January, Ajoni was celebrating her 17th birthday. As her present, she wanted to go to the beach with her teammates. She dreams of one day being an Olympian. But she also hopes to become a marine biologist and doesn't think that she can continue training if she goes to college after graduating from high school.
They all gathered at Frenchman's Cove, a serene small beach where a natural river meets the Caribbean Sea with pristine clear waters. As they were about to enter the river side of the beach, a lifeguard approached them, warning of a strong current.
Laila replied, "We swim for Jamaica."
And they ran into the water.
CreditMalin Fezehai/The New York Times
By Malin Fezehai
Jan. 29, 2018
Original article
29 January 2018
Local time in Jamaica
Find your Villa in Jamaica
Featured Excursion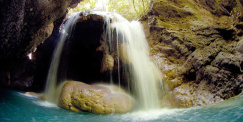 Somerset Falls
You have an error in your SQL syntax; check the manual that corresponds to your MySQL server version for the right syntax to use near '' at line 1