PORT ANTONIO: TRANQUILLITY AND LUXURY
In the late 19th century, American sea
captains began shipping bananas to Boston and New York from the village of
Port Antonio on the graceful north coast
of Jamaica.
Before long they got the idea that, as well as carrying trading goods on the Caribbean- bound leg of their trips, they could also bring paying passengers, and the tourist business in Jamaica was born.
But disease ravaged the banana trees around Port Antonio in the 1930's, and during World War II Nazi U-boat patrols discouraged travel in the Caribbean. After the war, Jamaica was left with a big airport at Montego Bay that helped start a tourist boom on much of the north coast. But Port Antonio was four hours away from the airport and it remained a sleepy little village with sparkling coves and lagoons and jungle-covered mountains that reached into the clouds. It is pretty much like that today, seemingly frozen in time, with only a handful of hotels and a romantic air.
The catch is that unless you are inclined toward rather Spartan lodgings, a vacation in Port Antonio is, by the standards of Jamaica, fairly expensive. There are three luxurious and tranquil places with various styles of suites and villas where, during the peak winter season, accommodations for a couple, including two meals, start in the neighborhood of $200 to $300 a day and go as high as $600 a day. (Prices at these places drop considerably during the summer season, beginning in mid-April.) Otherwise, there are only two other hotels, one of which charges $20 a day for a double, the other $50.
Some would argue that the price of admission adds to Port Antonio's allure, suggesting an immediate detour to some and bestowing upon those who come ahead yet another reminder of the privileged lives they lead.
''No question,'' said an employee at one of the elite places, ''there's a lot of snob appeal here.''
Port Antonio, which can be reached by regularly scheduled small plane from either Kingston or Montego Bay, has been a resting place for the rich and the famous almost from its earliest days. The Titchfield Hotel, which the Boston Fruit Company, forerunner of the United Fruit Company, built for the first tourists, catered to an elegant crowd, even if they did travel in banana boats. But there were others, like J. Pierpoint Morgan, who came in their own yachts. William Randolph Hearst, Paul Whiteman and Rudyard Kipling liked Port Antonio and so did Clara Bow, Bette Davis and Ginger Rogers.
07 April 1985
Local time in Jamaica
Find your Villa in Jamaica
Featured Excursion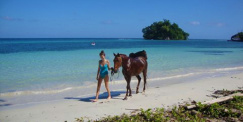 San San Beach
You have an error in your SQL syntax; check the manual that corresponds to your MySQL server version for the right syntax to use near '' at line 1