Island Aquatics Synchro team wins gold in Florida regional meet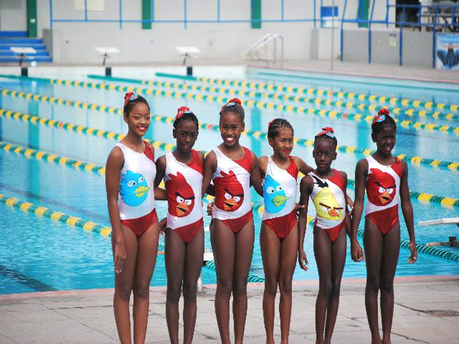 The US regional competition was held in Coral Springs and was hosted by the Coral Springs Aquacades for 173 intermediate and age-group swimmers. The Jamaicans entered in the age group categories of 12 and under and 13-15.
The Jamaican swimmers were first, second and third in three separate events. The 12-and-under age-group team won gold for their team routine whose theme was inspired by "Angry Birds" music. The team routine included two swimmers who have been on Jamaica's National Synchro Team previously, Hannah Smith and Nyouka Baugh, as well as Nicoletta Zdroik-Laing, Laila Bailey, Maryann Baker and Felice Coombs. Baugh also placed third in her solo and figures, a feat she repeated from the same competition last year. The duet of Baugh and Coombs placed second in the 12-and-under category, while the duet with Baker and Zdroik-Laing placed sixth.
Only Jamaican entrant
Ajoni Llewellyn was the only Jamaican entrant in the 13-15 age group. She has been a National 12 and under swimmer previously and recently moved up to the 13-15 age group. She placed eighth in her solo.
Other results included the 12 and under solos in which Felice Coombs placed sixth, Hannah Smith, seventh, and Laila Bailey placed eighth.
The Island Aquatics Synchro swimmers train in Kingston and Portland and their preparation included travel between both parishes to practise the team routine together. Local and international travel expenses were supported by sponsorship from Dekal Wireless, San San Property Owners Association and private supporters. The team also received sponsorship from Dolphin Cove, PA Benjamin, Reggae Jammin and Patterson Mair Hamilton this year.
Team coaches Olga Novokshchenova and Jun Tochino accompanied the swimmers while chaperones were Jacqueline Neil, Barbara Laing and Sharon Smith. The team returned home last Tuesday.
Source: http://jamaica-gleaner.com/gleaner/20140504/sports/sports11.html
04 May 2014
Local time in Jamaica
Find your Villa in Jamaica
Featured Excursion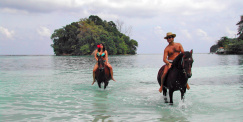 Horse Back Riding
You have an error in your SQL syntax; check the manual that corresponds to your MySQL server version for the right syntax to use near '' at line 1