Port Antonio, second coming
Guessing the date, homeschooling and musical chairs might very well have been the recent appetisers of choice. Thankfully, someone has remembered that the winter season is mere days away and 'pop down' and tourism don't go hand in hand.
A recent edition of NYTimes.com gave several column inches to Port Antonio and quoted Geejam's Jon Baker as saying that the parish's "second coming is around the water". There was mention, too, that Baker is "currently restoring the historic Trident Villas and the nearby castle, a grandiose private chateau once favoured by celebrities like Johnny Depp".
28 November 2011
Local time in Jamaica
Find your Villa in Jamaica
Featured Excursion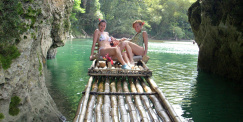 Rio Grande Rafting
You have an error in your SQL syntax; check the manual that corresponds to your MySQL server version for the right syntax to use near '' at line 1