The Grand Port Royal & Marina, Port Royal, Kingston
We wish to inform you that The Grand Port Royal Hotel and Marina formerly known as Morgan's Harbour Hotel & Marina is under new management and is currently undergoing major refurbishment to bring the hotel in line with international standards. As a boutique hotel, it is suitable for both corporate and tourist visitors alike with the distinction of being the only Airport hotel in Kingston and the only hotel that can offer ocean front rooms.
Our hotel is a veritable oasis away from Kingston's hectic pace. A hideaway in the heart of historical Port Royal where guests can relax and enjoy a sojourn by the sea front, experience the irresistible lure, the relaxing ambience and the delightful temptations of a hotel that lies literally between yesterday and today, offering the best of both worlds to all who cross its threshold.
The hotel will be ready for major bookings by November 2013.
01 November 2013
Local time in Jamaica
Find your Villa in Jamaica
Featured Excursion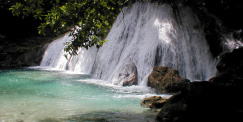 Reach Falls
You have an error in your SQL syntax; check the manual that corresponds to your MySQL server version for the right syntax to use near '' at line 1