Goat Islands and the Chinese
WE are not taking the long view, economically and environmentally, and we would be idiots not to look ahead. Plus, the Government is taking an absurd position. K D Knight, a lawyer and Urban Development Corporation chairman, said on the TVJ evening news on 27th August 2013, see if the project is possible, consult with the local people, and then see about the environmental effects. Shouldn't it be, zone the island and stick by it; also considering the environment, site project proposals by their requirements, consult all, and implement considering all inputs.
I recently saw Andrew Holness on TV, walking around on Goat Islands -- clearly a photo opportunity -- and talking about the environmental impact of the project on the islands, and "a cost-benefit analysis". The effect of building on the islands is relatively minor, he does not begin to comprehend the accompanying major effects on the waters of the Bight, and it doesn't seem his JLP advisors understand either.

A cargo ship passes through the Panama Canal's Miraflores Locks on May 9, 2013, in Panama City. (PHOTO: AFP)
Anyone who says that the "development" of the Portland Bight is a "no-brainer" is likely to be the person who has no brain. Understanding is the key to all of this.
Roger Clarke speaks of food security and says, rightly, that we have to produce a larger proportion of the food than we consume, instead of importing it, using foreign exchange which we are not earning. Part of that production is our fisheries, which have seen extensive overfishing and precipitous decline of the catch.
Remember when the Kingston Harbour was dredged years ago? I've been fishing at Port Royal point from the 1970s, and the fishermen have told me that the snappers that used to concentrate near the dredged-out reef were gone, and that was years after.

Read more:
http://www.jamaicaobserver.com/columns/Goat-Islands-and-the-Chinese_15004217#ixzz2eX8iJ7bs
10 September 2013
Local time in Jamaica
Find your Villa in Jamaica
Featured Excursion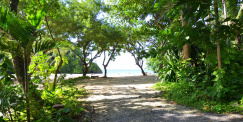 Frenchman's Cove Beach
You have an error in your SQL syntax; check the manual that corresponds to your MySQL server version for the right syntax to use near '' at line 1