Marybelle's Pub on the Pier

Marybelle's Pub Postings
Its and Bits of News from the Fabulous Errol Flynn Marina, Port Antonio, Jamaica
What We Hear Around the Pub this First Week of July, 2013
OUR FIRST STAB AT A NEWSLETTER- We want you to make the pub your favorite watering, lunching, eatery locale. The "Pub Postings" is our initial try at getting word out to our clients and it is our intention to get it out sometime during the first week (or so) of each month. That of course is based on the assumption that we can kick our unpaid editor in the derrierre?early enough to get this publishing done somewhere close to that time. We invite your comments, suggestions, on how we can make this newsletter a better media production and more importantly, how we can make your Pub on the Pier an even better place to simply hang out. In case you don't believe we are serious, send in your comments pro and con and see what we publish next time. Send comments, even viscous hate mail or whatever, to bellmar_bell92@yahoo.comAnd see how we answer them all next month. If, for some irrational reason or other, you happened to get on this mailing list without asking and you will be furious if you have to remain there, you can tell us that too.
OUR PRIMO LOCATION- We are pleased to have what we consider the most primo location at the fabulous Errol Flynn Marina (You might note that we always refer to our marina location in those terms). Keep watching, we might have an expansion announcement for you soon!
OUR FISH FOOD MENUS- If you like our seafood specialties such as our popular butterfly shrimp, etc (bar order or regular menu item), it's largely because of our exclusive use of Rainforest Seafood as our supplier of products from the sea. We planon adding other specialties in the near future including one we think that you'll really dig big: It's called beer batter shrimp, that has been butterflied, then dipped in a well-whipped batter of flour and lager beer with a splash or salt. Look for it soon!
BLUE MONDAY NIGHTS CONTINUE- Blue Monday's have pretty much become a tradition in the Caribbean since about 1979 when the first charter yachts started frequenting the Caribbean in significant numbers. We remember its roots starting in English Harbour, Antigua and then branching out to St.Maarten, the BVI, Grenada and other spots and it has been a regular in Jamaica for a number of years. We don't plan to let tradition down so please plan to join us From 5 to 7 p.m. every Monday where you will find rum punch for only $1 buck (US$ that is ) or $100 JAD. All beers are only $2,00 USD or$200 JAD. We'll also have some outstanding DVD videos on the big screen all evening.
LIKE KARAOKE? STOP BY SATURDAY NIGHTS- After a couple of test runs during the last few weeks we have elected to continue this as a regular Saturday night event. Please come by and join our regular DJ/.VJ the "Incredible Hulk" spin some of your fave sing-alongs. This starts as soon after sunset as darkness permits.
LIKE SALSA MUSIC AND LATIN DANCE ? STOP BY FRIDAY NIGHTS-
Please come by and join with our regular DJ/.VJ the "Incredible Hulk" . This starts as soon after sunset as darkness permits.
DO WE DO SPECIAL EVENTS? BUT OF COURSE! -Marybelle's Pub on the Pier is available for almost any kind of event such as weddings, birthday parties, anniversaries, company celebrations on any sort. Would you believe that someone actually contacted us one time about having a (amicable) divorce party. Our insurance company turned it down saying that such an event is not a possibility! If you'd like to get a quote on a special event, contact Marybelle at 876-413-9731.
IT'S FLYNN FLIMS TIME THURSDAY NIGHT- ""Flim" is a patois version of the word "Film". That's why we pay a bit of tribute to our Jamaican heritage by calling our Thursday Night Event the "Errol Flynn Flim Fest."Every Thursday night we will be showing a pair of Errol Flynn blockbusters from among his more than 60 films. During July, we will be screening films from the Errol Flynn Signature Collection which includes "Captain Blood", "The Private Lives of Elizabeth and Essex", "The Sea Hawk", "They Died With Their Boots On", "Dodge City" and "The Adventures of Errol Flynn." Other film collections of Flynn's greatest will be screened in subsequent months including segments that include his more famous westerns and war flicks.
Marybelle's Pub on the Pier
at the Fabulous Errol Flynn Marina
Ken Wright Drive
Port Antonio, Portland, Jamaica
1-876-413-9731
18 June 2013
Local time in Jamaica
Find your Villa in Jamaica
Featured Excursion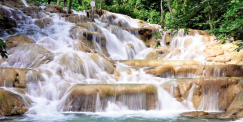 Dunn's River Falls
You have an error in your SQL syntax; check the manual that corresponds to your MySQL server version for the right syntax to use near '' at line 1