The Wall Street Journal - The Roots of Heaven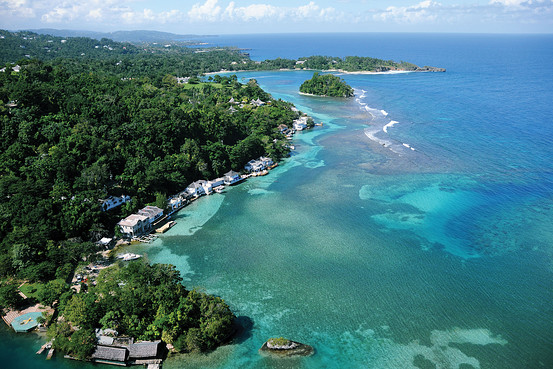 MUCH LIKE HEMINGWAY'S HAVANA or the Rockefeller compound in Puerto Rico, the tiny Jamaican hamlet of Port Antonio is where society, Hollywood and luxury came together during the Caribbean's 1950s heyday.
Back then, "Porty"—as the town is affectionately known—was a sleepy, banana-shipping village on Jamaica's isolated northeastern coast, quietly favored by an adventurous slice of the global elite. Errol Flynn arrived on his schooner in 1946 and established the cattle and coconut estate that his widow, Patrice Wymore, still calls home.
Fresh fish at Musgrave Market
German Baron Hans Heinrich Thyssen-Bornemisza bought land on Alligator Head, a short drive from downtown, where his daughter, Francesca von Habsburg-Lothringen, now throws legendary seafront New Year's Eve parties. Even Queen Elizabeth II came to town as an early visitor to Frenchman's Cove—a 17-hectare compound that opened in 1961 as one of the world's first all-inclusive luxury resorts. Nineteen years later, Brooke Shieldsimmortalized the region's raw beauty when she shot "The Blue Lagoon" a short drive from Port Antonio's Lilliputian downtown.
The Trident Hotel
Despite its pop- and high-culture connections, Port Antonio remains much as Ms. Shields and Her Majesty left it. Blame it on the terrain. Unlike land-and-lounge resorts like Negril or Montego Bay, Port Antonio is a good three hours by jeep from Kingston airport, across a 100-kilometer slice of the rugged Blue Mountains. The journey is bumpy but breathtaking—past Kingston's sprawl and tiny fishing villages, along snake-slim roads lorded over by towering king palms and dense with snack-shacks, taxi-vans and uniformed schoolchildren. There are brief tropical downpours—but what else could you expect en route to the parish of Portland, the lushest and wettest of Jamaica's 14 districts, of which Port Antonio is the capital? The ride ends with a coastal hug along the Caribbean, past rolling pastures and farmland to one side, clear sapphire shallows to the other.
11 April 2013
Local time in Jamaica
Find your Villa in Jamaica
Featured Excursion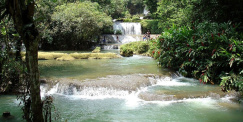 Mayfield Falls
You have an error in your SQL syntax; check the manual that corresponds to your MySQL server version for the right syntax to use near '' at line 1