HONEST TAXI DIVER LAUDED
JUTA Driver Sherman Roberts has been lauded for his honesty is returning a camera accidentally left behind by cruise ship passengers on the M/V Quest for Adventure that arrived in Port Antonio Nov. 22.
The guests visited friends at GeeJam Hotel and one of the passengers left the camera behind. Driver Roberts discovered the camera after discharging the passengers at the Ken Wright Pier and immediately brought the camera to security at the pier in time for it to be returned to the owner before the ship departed.
Executives from the cruise ship were quick to note and compliment Roberts for his honesty.
25 November 2012
Local time in Jamaica
Find your Villa in Jamaica
Featured Excursion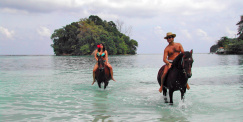 Horse Back Riding
You have an error in your SQL syntax; check the manual that corresponds to your MySQL server version for the right syntax to use near '' at line 1