Fly Jamaica prepares for January 25 take off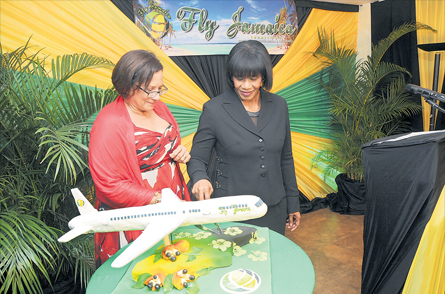 Fly Jamaica will start off operating one Boeing 757-200 aircraft, which can seat up to 200 passengers, with four flights weekly from Kingston.
[Hide Description] Prime Minister Portia Simpson Miller (right) with Roxanne Reece, managing director of Wings Aviation at the launch of Fly Jamaica at Devon House on Wednesday.

Captain Lloyd Tai, the airline's chief operating officer, told Caribbean Business Report that the airline will not operate as a low-cost carrier. Services will include business and economy classes, two free checked bags, free meals on all flights, and service in all cabins, said Tai the company's a launch ceremony on Wednesday at Devon House.
"We are a standard carrier," he said.
"It's a little bit against the tradition which is going on now, but what we have seen in particularly the Jamaican market, that is a key component of our traffic, is that they want to be able to utilise all of those facilities," he said.
Jamaica Civil Aviation Authority (JCAA) issued an Air Operator Certificate to Fly Jamaica in September of last year. It was the first full certification that the department has done on a large airline, according to Director General of the JCAA, Lieutenant Colonel Oscar Derby.
Derby said the airline was able to be certified within a year, after passing a series of rigorous tests. In the demonstration flight, from Jamaica to Guyana, the operators demonstrated that they had a depth of experience, he noted.
"We are very proud to know that this Caribbean collaboration has worked and has worked well," said Derby.
Fly Jamaica is a partnership between Guyanese Paul Ronald Reece, the company's chief executive officer, and three Jamaican shareholders including Tai. Transport Minister Dr Omar Davies called it "real evidence of regional co-operation".
Fly Jamaica will also operate between Kingston and Guyana, located on the northern coast of South America but culturally a part of the anglophone Caribbean. Davies noted that air travel between those two destinations has always been problematic and lauded the airline for alleviating the challenge.
Fly Jamaica has 80 employees.
Source Link

22 January 2013
Local time in Jamaica
Find your Villa in Jamaica
Featured Excursion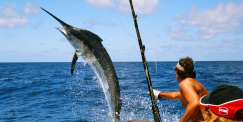 Deep Sea Fishing
You have an error in your SQL syntax; check the manual that corresponds to your MySQL server version for the right syntax to use near '' at line 1