The Chamber Chatter - November 2011
"IT'S TRUE!" -AMBASSADOR TO ADDRESS AGM JAN.12 – The Annual General Meeting Committee of the Chamber has announced that United States Ambassador Pamela Bridgewater will be the keynote speaker at the event on Thursday, Jan. 12, at the Errol Flynn Marina. "We may sometimes think that our Parish does not get much attention, but by the fact that Ambassador Bridgewater can take the time to come address our Annual General Meeting speaks volumes, " one AGM committee member noted. "It's not often we are fortunate enough to have such a high level visitor, let alone a speaker," they noted. The meeting will be held in the Ken Wright Pier Building at the marina from 6 p.m. The meeting will also include an election of directors and officers. A slate of candidates will be proposed by the nominating committee and nominations will also be accepted from the floor. Candidates must be bona fide paid up chamber members to qualify. Full details, slates, etc., will be announced in your December issue of the "Chamber Chatter".
ERROL FLYNN HOLIDAY BENEFIT BALL DEC. 17- Want to get in on the best holiday party of the season? Then mark your calendar right now for the Errol Flynn Holiday Benefit Ball on Saturday, Dec. 17, at the Errol Flynn Marina. This is an official event of your Portland Chamber of Commerce and will benefit the Portland Rehabilitation Center and Homeless Shelter. The best news yet: The "Fab Five" will be the featured dance band for the evening. Goal is to provide a women's dormitory at the facility, located on Infirmary Road, east of Port Antonio. Patrice Wymore Flynn, Errol Flynn's widow and Grandson Luke Flynn are patron's of the evening's events. The Dec. 17 date coincidentally is when Mrs. Flynn will be 85 years "young". The evening begins with cocktails from 7:30 p.m. in The Ken Wright Terminal Reception area. The keyboard
stylings of Peter Stoddart will be featured during the cocktail hour. Dancers will also have the opportunity to make bids in a silent auction that will include a variety of up market items such as weekends for two at some of Jamaica's most luxurious hostelries, jewelry, high-end smart phones, i-pads and an entire array of goods. Tickets are $3,000 in advance and $3,500 at the door. Tickets can be purchased at the Chamber of Commerce Port Antonio office at 2 Harbour St., the Errol Flynn Marina office in Port Antonio and at Stewart's Automotive in Kingston. For sponsorship opportunities and other details, contact Dale Westin at 876-477-9164..
ST THOMAS AGM ON NOV. 17- Members of the Portland Chamber of Commerce are invited to attend the Annual General Meeting of the St. Thomas Chamber on Saturday, Nov. 19. The meeting will include an address by Milton Samuda, President of the Jamaica Chamber of Commerce. Portland Chamber of Commerce Director Dale Westin has been invited to serve as master of ceremonies for the evening. There will also be an election of officers. The meeting will start at 4:30 p.m. and be held at the Whispering Bamboo Cove Resort, 105 Crystal Drive Retreat, Morant Bay.
NEW PRIME MINISTER WELCOMED- The transition of leadership of our government was completed at King's House in Kingston, Sunday, Oct. 23, when former prime minister, Bruce Golding, formally tendered his resignation to the Governor-General and Andrew Holness was sworn in as the country's ninth and youngest leader. Holness, at 39, was formerly Minister of Education.
ELECTIONS MUST BE SOON: Portland Road potholes that were squared out and left for more than a year were recently paved over in a "massive" two day campaign in and around Port Antonio. No work was done on any of the secondary roads in the Parish.
HEAR THEM BELLS? SOON COME: One of the sure signs of Christmas approaching is the familiar sound of tinkling bells and the Salvation Army Christmas Kettles dotting the streets. The annual Yule campaign gets launched officially on Friday, Nov. 25, from 9 a.m. at the First Caribbean International Bank Plaza in Port Antonio. The kettle drive seeks to provide necessary humanitarian aid to the less fortunate in our community. Chamber members and friends are encouraged to participate in the opening ceremony and also share a few choruses of some familiar Christmas Carols, according to Major Edmona Sylvester who heads up the local corps.
MARITIME INSTITUTE VISIT- Some 70 potential future leaders in the Caribbean cruise industry visited Port Antonio Oct. 24-25. The trip formed a part of their bachelor's degree training in Kingston at the Caribbean Maritime Institute located on the airport peninsula road. Students overnighted in the Ken Wright Cruise Terminal and were greeted by a variety of local dignitaries.
PORTLAND CREDIT UNION MARKS 40 YEARS- Our congratulations to the Portland Cooperative Credit Union Limited which recently marked 40 years of service to our parish. The event was marked with a 16-page special section in the Gleaner. PCU's main office is at 31 West St., Port Antonio, and their Buff Bay branch office is located at 10 Nelson St.
FORTY-TWO YACHTS registered for the 48th running of the Port Antonio International Marlin Tournament held Oct. 15-22 at the Old Marina and sponsored by the Sir Henry Morgan Angling Association. The Portland Chamber of Commerce was sponsor of the Local Canoe Tournament held Wednesday, Oct. 20. Photo shows the Parade of Boats on the first day of fishing. (Errol Flynn Marina Photo)
COMMENTS INVITED - Somehow, by hook or crook, we have managed to get out the first six issues of "Chamber Chatter" pretty much on time during the first week of every
month. We always appreciate feedback from our readers as to how we are doing and suggestions (pro and con) for future content.
HOUSE OKAYS CASINO REGULATIONS- The House of Representatives recently approved two sets of gaming regulations dealing with applications and the games and manner of operations. Finance Minister Audley Shaw indicated that the regulations are being presented to Parliament at this time to facilitate the forward planning of prospective applicants of approved integrated resort developments. "The regulations, (when passed) will signal to prospective developers and investors, that we are now ready to receive their applications, and it is intended that not more than three orders for integrated resort development will be issued," Shaw indicated.
CLOCKS & GATES GALORE- Classic clocks and gates throughout Jamaica (including Portland) are showcased in two rather unusual local websites we recently came across. Check out www.gatesofjamaica.wordpress.com and the one on classic clocks throughout the island at www.jamaicaheritage.wordpress.com
'IGNITE PORTLAND' THEME OF MARKETING PANEL: It's a mixed lot of people with a lot of ideas on how to promote our parish both domestically and internationally. They normally meet Tuesday afternoon at 2:30 p.m. at the marina. No invitation is required. If you have some good advice to give on promoting our Parish, show up at 2:30 p.m. Tuesday, Nov. 8, at the marina. If you can't make it but still would like to put forth some ideas, give Dale Westin a call at 477-6914 or email to dwestin@portjam.com.
08 November 2011
Local time in Jamaica
Find your Villa in Jamaica
Featured Excursion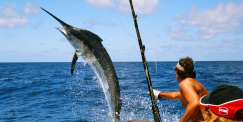 Deep Sea Fishing
You have an error in your SQL syntax; check the manual that corresponds to your MySQL server version for the right syntax to use near '' at line 1