Portland is safest
PORT ANTONIO, Portland:Highly regarded as the safest parish, Portland has the lowest crime rate islandwide and, according to data provided by the police, a mere seven murders have been committed from January to December 17 this year.
The Portland police, who have managed to keep a lid on most illegal activities, continue to make in-roads into the infamous drugs-for-guns trade, the cash-for-gold trade, counterfeiting, rape, break-ins, domestic violence and praedial larceny.
Commanding officer for the parish, Deputy Superinten-dent of Police Wayne Cameron, yesterday boasted about the new measures now in place, which are reaping success along with the support and dedication shown by the men and women under his command.
"Our success rate is extremely high," commented Cameron.
He added: "We are more vigilant than ever and, as a result, we are able to stay on top of ridding the parish of criminal elements. We conduct frequent spot checks and roadblocks, which have allowed us to recover a number of firearms. Additionally, our roadblocks and spot checks have allowed us to seize a variety of contraband which are being trafficked into the parish by motor vehicles."
Since the start of 2012, the Portland police have seized 13 illegal firearms in various types of operations in comparison to 14 during the corresponding period last year. Of the seven murders committed in the parish since the start of 2012, two have been categorised as related to domestic disputes, while the other five were related to criminal activities.
The streamlined community policing is also reaping success and, according to Cameron, the new measures now in place have allowed for a closer monitoring of trouble spots and depressed communities. He noted that once a threat is reported, a police team is dispatched in short order to have dialogue with both the complainant and the accused, so as to prevent the likelihood of that threat being carried out.
Cameron added: "That matter is not just set aside. It is followed up just to ensure that any form of tension and intimidation is defused. On the matter of the drugs-for-guns trade, we realised that drugs are brought into the parish by road and are transported elsewhere by sea. As a result, our patrols and spot checks along the borders have reaped success and are a deterrent to criminal elements."
He said: "We have stepped up our operations along the coastal areas and every port - whether makeshift or otherwise - where drugs can be picked up by boats is closely monitored. Our marine police have also stepped up their surveillance along the sea coast (Hectors River to Dover) and the Portland Coast Guard vessel has also enhanced such operations at sea."
Police need more vehicles
But while the efforts of the police have been lauded by residents, including business operators, social groups, and civil society, Pastor Ruel Carlington of the Prodigal Gospel Chapel argued that more could be achieved if the local police had more vehicles at their disposal.
Carlington said such a move would enable them to better respond to emergencies and conduct patrols more effectively.
"They are doing a marvellous job," he said. "And they are doing so with a scarcity of vehicles. Once they acquire additional vehicles, they would be in a better position to patrol certain remote areas, especially at nights, just to restore some levels of assurance among residents."
rural@gleanerjm.com
21 December 2012
Local time in Jamaica
Find your Villa in Jamaica
Featured Excursion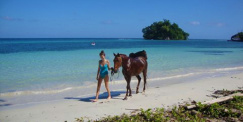 San San Beach
You have an error in your SQL syntax; check the manual that corresponds to your MySQL server version for the right syntax to use near '' at line 1