Jamaica with The Jolly Boys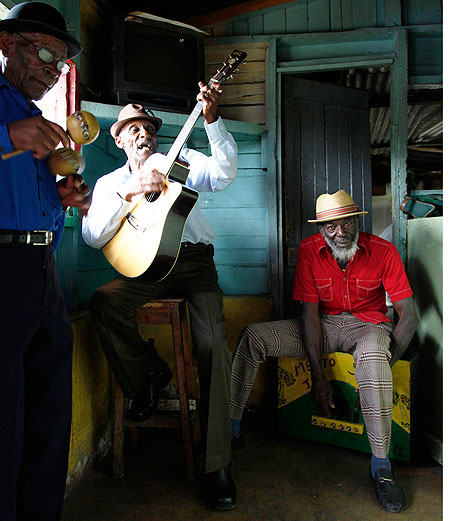 The Jolly Boys
www.bahighlife.com
I cross into East Harbour, swing by Folly Oval Cricket ground and emerge from the cliff shadow past the skeleton of the famous Trident Villas and Hotel, now boarded up and fallen into disrepair, to see the extraordinary silhouette of Trident Castle out on Pegg Point. Originally built as his family home little more than 30 years ago by the hotelier Earl Levy, it is an epic monstrosity of such kitschery that it ambushes you with a kind of grudging admiration. The rapper 50 Cent, that bastion of restrained good taste, once threw a party here. Enough said.
I round Turtle Crawle Harbour and climb out of town into San San, the picturesque swathe of land in the foothills of the John Crow mountains, developed post-war as a new enclave for the super-rich. The Aga Khan kept an estate here, while the family of Baron Hans Heinrich Thyssen-Bornemisza, the Swiss industrialist and noted collector of art, still owns an eight-acre property.
All these places, these people that make up the very personality of Port Antonio, seem to hark back to a thrilling past. But as I turn off the main road and approach a pair of discreet wooden gates, I'm entering a present that's every bit as alluring. This is Geejam, a hotel and recording studio in San San, which has built a reputation as a bolt hole for music industry glitterati and played host to the likes of Gwen Stefani, Drake and Alicia Keys. Most famously Amy Winehouse spent three weeks here in 2010, developing material for the putative successor to Back to Black. Is it my imagination or can I hear the familiar chords of Rehab, albeit with an unfamiliar twist?
I stroll down to the hotel's Bush Bar and finally track down my guides: The Jolly Boys, Geejam's house band, and they're in full swing. They grant Amy's hit a novel frisson. Maybe it's because they infuse it with a vibe that's all 'mento', that lilting Caribbean folk music that preceded reggae as Jamaica's soundtrack of choice. Maybe it's because the stripped back line-up (drums, rumba box, guitar, banjo, shakers) conjures a raggamuffin authenticity appropriate to both song and surroundings. Or maybe it's because The Jolly Boys are all the senior side of 70, five men of dapper demeanour whose movements belie their age, fronted by the extraordinary Albert Minott — part Prince, part Bowie, with a little Clive Dunn thrown in for good measure: 'Yes I been black/But when I come back/ You'll know, know, know.'
You see The Jolly Boys have been playing the venues of Port Antonio for more than half a century. They witnessed fortunes rise with the arrival of Flynn and the thousands of American tourists aboard banana boats that once made this a busier port than Liverpool in its prime; and they observed the slow decline 
post-independence as Montego Bay, with its 
airport and all-inclusive packages, began to price the more esoteric appeal of Port Antonio out of the market. And The Jolly Boys are still here to watch the renaissance.
Click here for the full article
15 April 2012
Local time in Jamaica
Find your Villa in Jamaica
Featured Excursion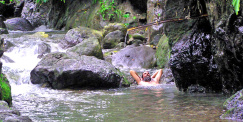 Bath Fountains
You have an error in your SQL syntax; check the manual that corresponds to your MySQL server version for the right syntax to use near '' at line 1