Hitting the Right Rhythm to Tell Marley's Story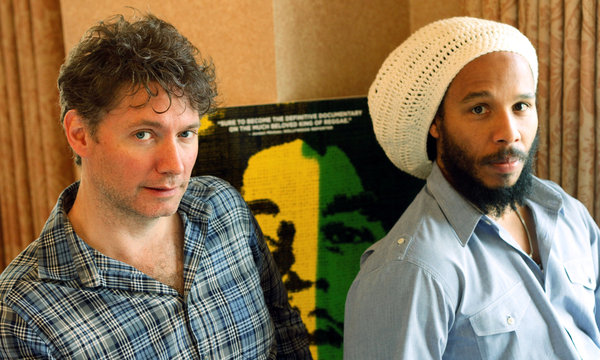 OF all the friends, lovers, relatives and Rastas that the director Kevin Macdonald wrangled into his new documentary, "Marley," one of his favorite finds was Dudley Sibley, a onetime recording artist and the janitor at the Jamaican recording studio where Bob Marley cut his musical teeth.
Enlarge This Image
Magnolia Pictures
Bob Marley, who died in 1981, in "Marley."
"He lived with Bob for 18 months in the back of Studio 1," Mr. Macdonald said recently over breakfast in Manhattan. "No one ever thought to talk to this guy. My researcher in Jamaica said to me, 'Oh, by the way, there's this guy I've met who says he lived with Bob.' I said, 'Oh, yeah, yeah, I don't believe that.' But I met him. And he was for real."
Making a definitive biographical film about Marley, the reggae superstar, who died of cancer in 1981, has always been problematic, plagued by a shortage of archival footage, disagreements over music publishing, and the fact that Marley had 11 children by seven women and never wrote a will.
"You also have a lot of musicians who felt they didn't get their fair share," Mr. Macdonald said. "Jamaica is a poor country. A lot of people feel that, well, 'I have photos of Bob,' or 'I have film of Bob,' or 'I have my memories, why am I going to give this for free when his estate is making millions of dollars?' " He said he tried to keep it simple, "because the story is so complex."
Likewise the history of the new film, which can be seen in theaters and through video on demand on April 20. The "Marley" executive producer Steve Bing originally enlisted Martin Scorsese to direct the movie, having worked with him on the 2008 Rolling Stones concert film "Shine a Light." When scheduling became an obstacle, the director Jonathan Demme was brought on. Then off. Then on. Then off.
"I came on board thinking, 'Is this the curse of Marley?' " Mr. Macdonald said, noting that in addition to the existing documentaries about his subject, there have been at least a half-dozen attempts to make a dramatic feature about the man considered the first third-world superstar.
As it turns out, the earlier difficulties were a blessing for Mr. Macdonald, who has also directed features like "The Last King of Scotland," from 2006. Mr. Bing had negotiated the music rights for only a certain number of years and, Mr. Macdonald said, wasn't in a position to make a lot of demands of his director. (Mr. Bing declined to be interviewed.)
"That's why it was so attractive to me," Mr. Macdonald said. "Steve was feeling pretty frustrated." Mr. Bing had spent four years unsuccessfully trying to make the film. "It was a big deal for him to negotiate the rights in the first place, and he was watching them slip away."
In a statement the film's production company, Shangri-La, said: "We always look forward to working with Marty so we can enjoy the same success we shared working on the Rolling Stones documentary, 'Shine a Light.' Jonathan Demme is a great, talented director, we had a great experience with him on 'Heart of Gold' and ran into some creative differences on 'Marley.' Both parties thought it would be in the best interest of the film to give someone else a shot."
By e-mail Mr. Demme said, "I'm afraid my settlement agreement with the producers prevents me from commenting, except to say that making a film inspired by Bob Marley's life and music was an extraordinary honor for me, and one of the greatest filmmaking experiences of my life."
When all this history was posed to Mr. Macdonald, who directed the Oscar-winning 1999 documentary "One Day in September," he laughed. "I don't have to be diplomatic," he said. "Scorsese was going to do it, and then realized that he had 19 other films stacked up and wasn't going to get to it for a few years. I don't know the nuances of what didn't work between Steve and Demme, but when Steve approached me, he was in a position of saying, 'Look, I want to get the movie done, so you can do what you like.' "
The people Mr. Macdonald set out to interview included "everyone who's alive and was intimate with Bob," he said. They included Neville Livingston, a k a Bunny Wailer of the original Wailers (later Bob Marley and the Wailers) and Marley's relatives, black and white. (His absentee mixed-race father, Norval Marley, who was considered a white Jamaican, is a ghostly presence.) Anyone familiar with Bob Marley would assume that, if anything, the difficulties inherent in getting his inner circle to sign off on the same film would keep the full story from getting on screen for 31 years. But Mr. Macdonald said he got total cooperation. Ziggy Marley, Bob's eldest son, said the family is happy with the result.
"This is what we wanted it to be," Ziggy Marley, a successful pop performer, said by phone. "I've never read one book about my father," he said. "Who are they? They don't know him."
Rita Marley, Ziggy's mother and Bob's widow, concurred.
"This is not a fiction, not a fantasy," she said by phone. "It's reality." Rita, Ziggy and Ziggy's sister Cedella Marley are all interviewed, as is Cindy Breakspeare, a former Miss World with whom Bob Marley had a well-publicized relationship and a son, the reggae artist Damian Marley.
Despite the cooperation, "I can't stress enough how left alone I was," Mr. Macdonald said. "I was in London. Ziggy and Steve were in L.A. The first cut I showed them was three hours long. Ziggy said: 'Don't take a thing out. It's great.' And Steve said: 'What do you mean? We can't release a three-hour movie.' "
As it stands, "Marley" is almost two and a half hours long. "I was contracted to make a two-hour film," Mr. Macdonald said. "But I just had so much good stuff. I said, 'Steve, I took out everything I can,' and to his credit he said 'Get it down as much as you can and that's where we'll leave it.' "
Besides, Mr. Macdonald added, Marley is a major cultural figure of the 20th century. "If Scorsese can make four hours on Dylan, and he's not even dead," he said, "I think Bob deserves two and a half.
06 April 2012
Local time in Jamaica
Find your Villa in Jamaica
Featured Excursion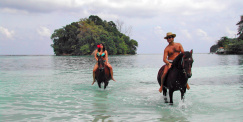 Horse Back Riding
You have an error in your SQL syntax; check the manual that corresponds to your MySQL server version for the right syntax to use near '' at line 1