The Chamber Chatter
JOIN US ON NAVY ISLAND- A community volunteer campaign to clean up Navy Island will get underway Sunday, March 11, and continue through each of the following Saturdays (17th , 24th & 31st) in the month. Dubbed "Nice Up De Place", the event will start at 8:30 a.m. each day boarding boats at Errol Flynn Marina which are being provided by Lady G Diver and Somerset Falls. Volunteers are being asked to wear jeans and shoes (no flip flops) , bring a hat and gloves, plus some appropriate tools for cleaning and brush removal. Suggested items include machetes, shovels, rakes and brooms. Volunteers will be treated to a lunch at the Great House on the island prepared by the Errol Flynn Marina Dock Boys. Lunch food is being donated by both Kamal's and Ramtulla's supermarkets and the Coronation Bakery. Navy Island has been abandoned for many years since the former resort went into receivership and the island became the property of the Jamaican Government. The buildings are all in great disrepair and most have been stripped of everything of value. The Great House, made largely of concrete, remains pretty much intact. The island has great historical significance. Originally known as Lynch's Island, it became Navy Island when the Royal Navy turned it into a defensive location to protect the entrance to Port Antonio's two harbours. It further went down on the pages of history when Capt. William Bligh landed in Port Antonio with breadfruit from Tahiti. In the 1940's it became the property of Actor-Womanizer Errol Flynn who developed it as his personal hangout. Flynn was followed by a succession of developers that turned it into a pristine resort location. Flynn's plantings of numerous majestic Royal Palms remain as his signature on the island. There is presently no access to the island so the volunteers will be getting a rare opportunity to view where a lot of our country's history occurred and also make a contribution toward preserving that heritage. Persons wishing to volunteer for one or more of the workdays should call 876-477-6914 to register. A maximum of 50 volunteers will be accepted for each of the days. Persons can register for one or more ot the scheduled days.
LOCAL ELECTIONS SET MARCH 26- Prime Minister the Most Hon. Portia Simpson Miller is urging all Jamaicans to participate in the upcoming March 26 Local Government Elections.

CRUISE SHIPS CALL- The sleek Windjammer "Sea Cloud II" will be calling at Port Antonio Monday, March 5 with about 100 passengers for the day. The vessel arrives at 11 a.m. The "Deutschland" will be in port over night in Port Antonio March 27, arriving at 3 p.m. and departing the following day at 10 p.m. The "Deutschland" passenger count was not available at press time. Both cruise ships have previously visited Port Antonio. There has always been considerable discussion as to why more cruise ships do not call and the reasons the number of calls has fallen off drastically in recent years. There are a number of factors: the number of "boutique" cruise ships operating has been decreasing steadily over the past several years; a substantial number of there operators have simply gone "belly up"; and, insasmuch as most vessels in the "boutique" category are twice the price of a regular jumbo cruise ship, the demand has diminished during the recent world economic crisis. On most "boutique" cruises, the passenger to crew ratio is nearly 1:1 whereas it is about 1:4 on many of the traditional cruise lines. The largest vessel that Port Antonio can accommodate is 660 feet. While larger vessels could enter the port, the ship must be able to turn around in the port to exit safely, which is where the 660 foot turning limitation applies.

GLEANER, PCC, SPONSOR EDITOR'S FORUM- Sixteen Gleaner newspaper editors and Portland stakeholders gathered Thursday, March 1, at the Errol Flynn Marina for a formal editor's forum. Discussions ranged from law enforcement, water leakage problems, to the possible impact of the USA travel ban on Cuba being lifted in the near future. The forum was co-sponsored by your Portland Chamber of Commerce.

NAVASSA ISLAND RESEARCH- Most folks have never heard of the place! Navassa Island (French: La Navasse, Haitian Kreyòl: Lanavaz or Lavash) is a small, uninhabited island in the Caribbean Sea, claimed as an unorganized unincorporated territory of the United States, which administers it through the U.S. Fish and Wildlife Service. Haiti which has claimed sovereignty over Navassa since 1801, also claims the island in its constitution. A research ship and scientists will arrive in Port Antonio on the weekend of March 10 and will be using the Errol Flynn Marina as a base for various studies on Navassa. In 1504, Christopher Columbus, stranded on Jamaica, sent some crew members by canoe to Hispaniola for help. They ran into the island on the way, but it had no water. They called it Navaza (from "nava-" meaning plain, or field), and it was avoided by mariners for the next 350 years.
Despite an earlier claim by Haiti, Navassa Island was claimed for the United States on September 19, 1857 by Peter Duncan, an American sea captain, under the Guano Islands Act of August 18, 1856: for the rich guano deposits found on the island, and for not being within the lawful jurisdiction of any other government, nor occupied by another government's citizens. Haiti protested the annexation, but on July 7, 1858 U.S. President James Buchanan issued an Executive Order upholding the American claim, which also called for military action to enforce it. Navassa Island has since been maintained by the United States as an unincorporated territory.


WHERE IT'S AT: Check out Bay View Villas on Thursday evenings. Throughout the month of March, the focus will be on cultural matters. Last month, the resort featured a variety of jazz musicians. The Thursday gig starts at 7 and often includes a good bit oif audience participation. For details, call 876-993-3118. Also, the unique Great Huts team puts on a cultural event Saturday nights. The venue changes frequently so check tham out at 876-993-8888 for the event of the week. Great entertainment, even better prices! Marybelle's Pub on the Pier at the fabulous Errol Flynn Marina features some great big screen videos every night including Michael Jackson, Rihanna, Beyonce, Celine Dion, Jennifer Lopez and others. They also feature Errol Flynn classic "flims" on Thursday night.
02 March 2012
Local time in Jamaica
Find your Villa in Jamaica
Featured Excursion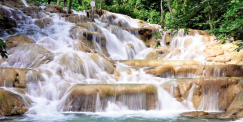 Dunn's River Falls
You have an error in your SQL syntax; check the manual that corresponds to your MySQL server version for the right syntax to use near '' at line 1