Docklines
ERROL FLYNN HOLIDAY BENEFIT BALL DEC. 17
- Want to get in on the best holiday party of the season? Then mark your calendar right now for the Errol Flynn Holiday Benefit Ball Saturday, Dec. 17, at the Errol Flynn Marina. This is an official event of your Portland Chamber of Commerce and will directly benefit the Portland Homeless Shelter. The best news yet: The "Fab Five" will be the featured dance band for the evening. Patrice Wymore Flynn, Errol Flynn's widow and Grandson Luke Flynn are patron's of the evening's events. The Dec. 17 date coincidentally is also when Mrs. Flynn will be 85 years young. The evening begins with cocktails from 7:30 p.m. in the Ken Wright Terminal Reception area. Peter Stoddart's keyboard styling will be featured during the cocktail hour. Dancers will also have the opportunity to make bids in a silent auction that will include a variety of up market items such as weekends for two at some of Jamaica's most luxurious hostelries, jewelry, high-end smart phones, and an entire array of goods. There will be several "contests" throughout the evening including a "Pencil-Thin Mustache" competition. Errol Flynn was known for his trademark mustache. Tickets are $3,000 ($35.00 USD) in advance and $3,500 at the door. Tickets can be purchased at the Chamber of Commerce office at 2 Harbour Street, the Errol Flynn Marina office in Port Antonio and at Stewart's Automotive, 5 Orchard Road, in Kingston. For sponsorship opportunities and other details, contact Dale Westin at 876-477-6914.
MARITIME INSTITUTE VISIT- Some 70 future leaders in the Caribbean cruise industry visited Errol Flynn Marina and Port Antonio Oct. 24-25. The trip formed a part of their bachelor's degree training at the Caribbean Maritime Institute in Kingston. Students overnighted in the Ken Wright Cruise Terminal and were greeted by a variety of local dignitaries. They also received briefings on the future of Port Antonio with respect to the impact of the travel embargo being lifted on Cuba by the USA government.
ISSUE 48 MILESTONE – Time seems to just fly by as we are ready to begin our fifth year of publishing "Docklines". Over the past four years we're received a respectable number of "atta boys" for our writing and only a few" poison pen" notes as well so for the most part we take it we are doing something right. Comments of any sort are always appreciated and help us do a better job! FORTY-TWO YACHTS REGISTERED for the 48th Port Antonio International Marlin Tournament held Oct. 15-22 at the Old Marina . (Errol Flynn Marina Photo)
FORBIDDEN STUFF? While for some 50 years USA visitors still remain the only folks in the entire world that are denied the freedom to visit Cuba, we notice that this restriction doesn't stop them from enjoying fresh Cohiba or Monte Cristo cigars nor Havana Club rums at Marybelle's Pub on the Pier. And…just in : The Pub is now featuring Cuba's famous Cristal beer. What next? Just remember USA border protection authorities consider smuggling Cuban cigars an extremely serious crime or something on a par with importing cocaine!. In the meantime, enjoy it while you're here (The cigars, that is). This writer, once asked if he was carrying Cuban cigars by US Customs, confessed to having smoked some once but indicated that out of a deep respect for President Bill Clinton; he did not inhale!
FORT LAUDERDALE BOAT SHOW OCT. 27-31 Marina General Manager Dale Westin will be at the Bahia Mar in Fort Lauderdale during the show. He is available to meet with anyone regarding the Errol Flynn Marina and Port Authority properties in Port Antonio, Jamaica. Just call 876-832-4765. The Fort Lauderdale Show also includes exhibits at the LXR Marina (Formerly Pier 66), the Fort Lauderdale Convention Center, Hall of Fame Marina and Las Olas Marina. Errol Flynn Marina and Boatyard will also be exhibiting at the Miami International Boat Show February 16-20 at the Miami Beach Convention Center in Booth 4239. There will actually be three boat shows in Miami during the same period, including the Strictly Sail at Miamarina and the huge Super Yacht and Brokerage Show along 10 blocks of Collins Avenue on Miami Beach. A ticket
to the Miami Boat Show also admits you to the Strictly Sail. There is no admission charge for the Super Yacht Brokerage Show. Shuttle busses provide quick free access to all three shows.
COMMUNITY INVOLVEMENT- We strongly believe in being involved in various aspects of our community and support that by having representatives in the Greater Portland Chamber of Commerce, the Portland Chapter of the Jamaica Hotel and Tourist Association, the Port Antonio Marching Band Association, Save the Blue Lagoon Campaign, the Port Antonio Heritage Park Committee and of course the Errol Flynn Benefit Ball committee.
PLANNING A BIG EVENT? – Keep Errol Flynn Marina in mind whenever you need the perfect location for that special event. Our Ken Wright Terminal Building, Ken Wright Pier, Beach, Promenade or Grassy Green are all available for short term rental. To date we have hosted numerous weddings, anniversary parties, birthdays, family reunions, company stockholder meetings and various expos. We are even being considered to host a Bar Mitzvah! For full details, contact Christine Downer, events coordinator, at the marina office or call 876-715-6044. In addition several of our marina vendors, including Norma's at the Marina
OLD MARINA DOCKS WERE FILLED with every possible type of fishing machine for the 48th Port Antonio International Marlin Tournament held Oct. 15-22. (Errol Flynn Marina Photo)
Errol Flynn Marina and Shipyard
Box 188-Ken Wright Drive- Port Antonio, Portland, Jamaica, W. I.
Tel: 876-715-6044 or 876-993-3209 Fax: 876-715-6033
www.errolflynnmarina.com – email: [email protected]
VHF Channel 16/9---18⁰11.65'N, 76⁰26.875W – Use DMA Chart 26129 or Admiralty 458 (Recommended)
Opinions Expressed in this Publication are those of the Editor and do not necessarily reflect the opinion of the Port Authority of Jamaica
WANT US GONE FROM YOUR MAILBOX? We recognize than some of our mail recipients may no longer want or need to receive our periodic emails. If this is your case, just email us with the word "UNSUBSCRIBE" or "DELETE" in the subject line and be sure to include your email address. Your address will be promptly deleted. Alternatively, if you wish to add your name to our mailing list, just show "SUBSCRIBE" in the subject line and include the email address to be added.
25 November 2011
Local time in Jamaica
Find your Villa in Jamaica
Featured Excursion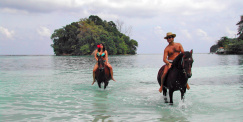 Horse Back Riding
You have an error in your SQL syntax; check the manual that corresponds to your MySQL server version for the right syntax to use near '' at line 1